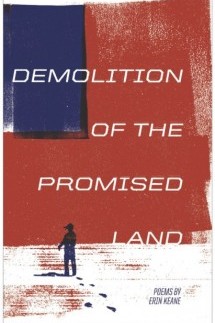 Available March 11, 2014
Published by Typecast Publishing
Cover Design by Larry Buchanan
Demolition of the Promised Land
Welcome to journalist and pop culture critic Erin Keane's third and finest poetry collection. With Bruce Springsteen appearing throughout as guide, ghost, and accidental guru, Keane sharply articulates the bangs and bruises that universally march us toward our middle years.
"They are not so much about Bruce but use him as a spirit animal, as a device, or even as a deus ex machina. Bruce is in the supermarket, he is in the Pine Barrens, he is visiting Washington D.C. He is a mythical figure, a flight of fancy, a theme. You would think this wouldn't work or would be so distracting that they would take the reader out of the poem, but it does not. The poems are serious, delightful, fantastical and heartbreaking." — Caryn Rose, Backstreets
Read the Backstreets interview with Erin.
"These poems are both celebratory and elegiac, filled with music and the voice of a poet whose keen observations, sense of humor, and striking voice make it hard not to listen." — Joanna Lin Want, Arts Louisville (read the review)
Listen to Erin read from and discuss "Demolition of the Promised Land" on ArtxFM's Keep Louisville Literary show.
"Riding Out Tonight to Case the Promised Land" (LEO, April 2, 2014)
There is an air of sadness underlying the Springsteen fantasy sequences. The Boss contemplates mortality in the aftermath of Hurricane Sandy which pushed the Star Jet roller coaster off of the Jersey boardwalk and into the Atlantic. He scales the Washington Monument questioning war and nationalism. And Springsteen hides inside a giant Elephant on the coast of Margate, New Jersey. Keane captures the universal feelings of disconnectedness and loneliness or just the need to be alone. If Bruce needs solitude maybe, we wonder, it's not so strange that we do as well. — Amy Miller, Insider Louisville (read the review)
Smart, entertaining poems that highlight the multitude of reasons Keane is a unique and rising voice in modern letters. Published by Typecast, hot off the press in March 2014.