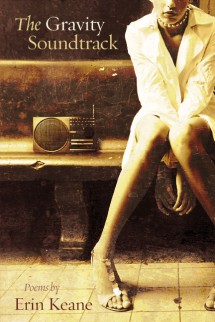 Published by WordFarm, 2007
Cover Design by Andrew Craft
Finalist, ForeWord Magazine Poetry Book of the Year
The Gravity Soundtrack
In her debut collection, Erin Keane explores subjects ranging from classic myth, philosophy and religion to rock 'n roll, pop culture and children's book characters.
Read a review by Wendy Vardaman on Poetry Daily.
"With a confident and alert use of language, this poet sets out to discover both the ground of what matters and the music to accompany the discovery. In poems that by turns whisper secrets, belt out hard truths, and deliver lines like a shrewd stand-up comic, Erin Keane has put together a book that is as entertaining as it is compelling. What a fine mix of irreverence, insight, craft, and intelligence. The Gravity Soundtrack rocks." — Greg Pape, author of Four Swans
In The Gravity Soundtrack, the poet is not a voice from above passing truths down to the reader, but rather is right there with us in the muck and mire of human experience—and, all along, shows great compassion for our questioning, our losses, our uncertainty. In the end, Keane has few answers for this questioning, but, still, the book leaves us with a feeling of redemption and hope. Is it our very stories, she says, that finally redeem us: "I couldn't give you/anything to hold, so take this wakeful night/know it can't make sense. What's left? At least/make it a good story. An offering, one last" ("Grievous Angel").
Read a review by Tom Hunley at Poemeleon.
"I've been a groupie of Erin Keane's poems for years and thought a full-length collection of her hip verses long overdue. The Gravity Soundtrack was worth the wait. Poem after poem here will make you smile, pause, think a little, feel like flirting. The pages brim with music and bourbon, myths and ghosts, a dreamy nostalgia for a past that never quite worked bolstered by a melancholic wish for a future that probably won't happen. Still, somehow, the rhythms swing and the pervasive feeling is buoyant celebration. These are poems that want to party! Keane has a sharp eye, a melodic ear, a sassy mouth, and a big ol' generous heart that keeps getting in the way. Nearly every one of her tunes sounds like a hit." — Gaylord Brewer, author of Give Over, Graymalkin
The Gravity Soundtrack was a 2007 finalist for the ForeWord Magazine Book of the Year in Poetry award.
"Think of Joan Jett crashing the Miss America Pageant and reading her poems for the talent competition! And winning! It's deus ex machina on adrenalin. How refreshing to read a book that fills the modern world with mystery once again. Erin Keane's first book helps us 'find the coiled infinite inside' so that we end up fluent in the pure language of awe." — Rane Arroyo, author of Home Movies of Narcissus