DEATH DEFYING-ACTS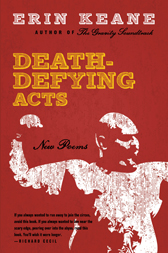 ForeWord Magazine 2010 Book of the Year Award finalist
Buy the book today!
A new clown has joined the ragtag Corsican Brothers Circus—chain-smoking, foul-mouthed Jack is unwilling to be seen without his makeup and unable to forget his unlucky past. A promising romance with the sideshow's femme fatale tattooed lady and an unlikely friendship with a sheltered young aerialist offer him a chance for redemption, if he knows one when he sees it.
Death-Defying Acts, a collection of persona poems, tells the story of one summer on the road with a small-time circus, weaving together the stories of performers living on the fringe of society. Their voices, including a jaded lion tamer and her favorite lion, a fortune teller with a cruel streak and a Magic 8 Ball, a patient tattoo artist, and the midway's omniscient photo booth, echo back and forth as the poems talk to one another, examining the tension between public and private, the need for authentic human connection and the desire for self-determined lives.
THE GRAVITY SOUNDTRACK


ForeWord Magazine 2007 Book of the Year Award finalist
Buy the book | Reviews and praise

In The Gravity Soundtrack, the poet is not a voice from above passing truths down to the reader, but rather is right there with us in the muck and mire of human experience—and, all along, shows great compassion for our questioning, our losses, our uncertainty. In the end, Keane has few answers for this questioning, but, still, the book leaves us with a feeling of redemption and hope. Is it our very stories, she says, that finally redeem us: "I couldn't give you/anything to hold, so take this wakeful night/know it can't make sense. What's left? At least/make it a good story. An offering, one last" ("Grievous Angel").